Welcome!
Physiotherapies, massages or even forms of exercise such as gymnastics have long contributed to the well-being of us humans. Unfortunately, more and more animals suffer from degenerative diseases, diseases of the musculoskeletal system, injuries or muscular tension.
So that our animals stay vital and mobile for a long time, there are many supportive possibilities.
Following the diagnosis of the attending veterinarian, I will create an individual training plan tailored to your pet according to his instructions.
If I have sparked your interest, or if you have any further questions, feel free to contact me.
Currently you can find me both in the premises of veterinarian team Velden and in Ljubljana (SLO).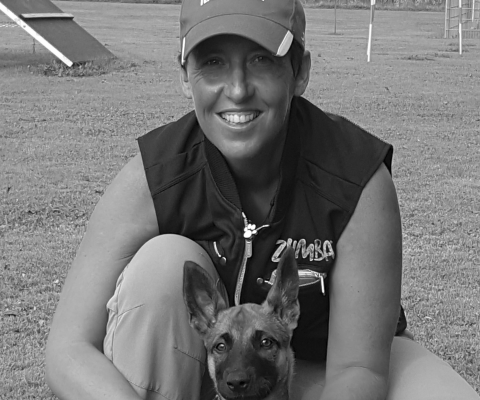 Mobil underwater treadmill 
Hydrotraining has a positive effect on the entire body. Through buoyancy in the water, a joint-gentle training takes place. It is used for building muscle and condition and is used in a wide variety of applications.
Mobile in Austria and Slovenia!
EUROPEAN PET PHARMACY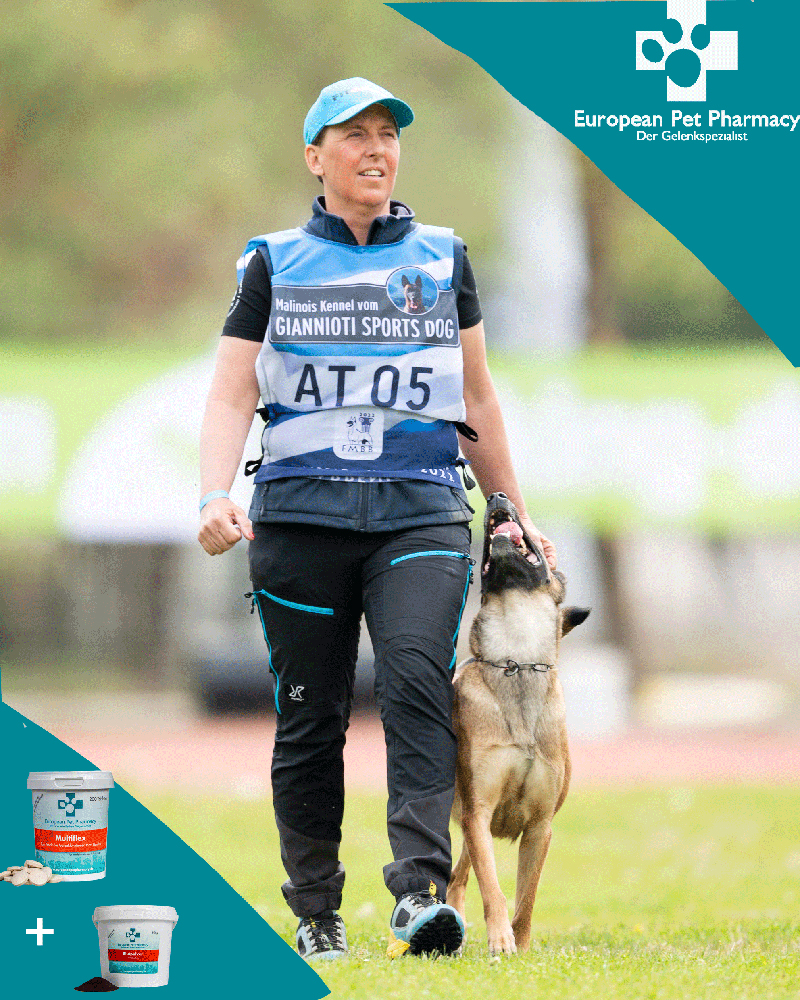 As a physiotherapist for dogs, the health of my clients is very important to me.
Therefore, I count on natural products from EUROPEAN PET PHARMACY - The joint specialist.
Whether for muscle building and prevention of the joint, as well as for our seniors with acute joint problems.
With the first order there is 20% discount with the coupon code:
sabine.pobisch
For more information just contact us.

Online classes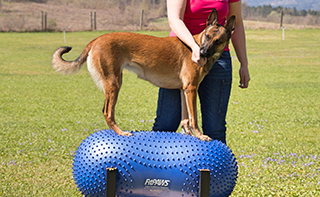 The personal training is individually tailored to your dog, paying attention to the set training goals and individual needs, as well as resilience.
>> SIGN UP
TESTIMONIALS
Every dog needs Sabine in his life. Young and old, sport or pet dogs...all the dogs can benefit from things she does. Galant and Troika for sure highly recommend her!
Maja Orešnik, multiple times IPO WM competitors
At the moment I own 4 dogs and we love to explore different sports and activities, so although we are the most active and competitive in agility, my dogs also train IPO, herding and recreational Frisbee, tricks,… Apart from the sports we train, we also enjoy a very active outdoor lifestyle, with lots of long walks, hiking, swimming. So it is safe to say my dogs are true athletes. Unfortunately that means that they will get injured now and than or that their body starts to show some weaknesses throughout the years. To make sure I reduce this chance to minimum I put a lot of effort into proper fitness training – having a specialist like Sabine telling me exactly how to train each and every one of my dogs based on their individual weaknesses and strengths makes this training way more efficient. With regular massages, osteopathy, laser and ultrasound treatments we make sure that their recovery after trainings is as good as it can be. And Sabine has helped us A TON when dealing with some injuries and keeping my old ones happy and fit. It is a great advantage to have someone like Sabine by your side, me and my dogs are really grateful for all her help!
Polona Bonač, actively training dogs for almost 20 years
At home we have three dogs – an 11 year-old Podenco ibicenco, an 8,5 y.o. Groenendael and a 2,5 y.o. longhaired Chihuahua. Since we try to be as active as possible, maintaining a good physical condition is essential. We like to do a chek-up every now and then to make sure everything is ok and to get some professional input regarding possible improvements to our daily or weekly routines to help our dogs stay fit. At the same time, all three dogs have specific conditions that require special treatment in order to keep them going healthy and strong. Sabine's treatments have been very beneficial, she helps us with her advices and shows me how to do the exercises and stretching for all three of them. I am thankful for all her help and knowledge.
Urša Medvedšek, conformation (show) judge and obedience instructor